FREE RESOURCES

TO HELP YOU GROW YOUR BUSINESS
21 Day Business Challenge
Grow your business in 21 days with step-by-step short videos that you apply each day. Free for all Black Country business owners.
Black Country Business Newsletter
Get the latest business offers and the most recent news on what is working for business owners (specifically in the Black Country) in growing their businesses.
Think Smarter, Do Less, Get More From Your Business AND Your Life
Free paperback book for all Black Country business owners that are looking for ideas on how to get leverage and grow their business.
Have questions on how you can accelerate your business success?
Action

COACH Black Country
Holding the award for the
UK'S number 1 business coaching firm

 for best client results…
5 years running!
If you want to work less, earn more and get more from your business, business coaching with the top UK business specialists at  ActionCOACH Black Country will get you there.  With access to the most proven and tested business growth system in the world combined with a transformational toolkit, we recognise what drives performance in business and we think that's a formula worth sharing.  With a certified 6 month guarantee that your profits will exceed what you pay for the service we provide, isn't it time you put yourself in the best possible position to run your business?
What do business owners get from coaching with ActionCOACH Black Country?
• A leveraged business – allowing you to work less hours and get your time back!
• Increased profits – enabling you to do more in your business and earn more!
• Leadership development – engaging your employees and building a team that will take your business to new heights! 
• Maximum efficiency – discovering the most effective processes to streamline your productivity, giving you more time and more money!
• Breaking through the glass ceiling – unlocking your business potential, giving you the vehicle to achieve your life goals!
What is business coaching and how does it work?
Find out how business coaching with ActionCOACH Black Country works by watching the client videos below…
Most viewed Black Country Business Podcast
---
Episode 12: Corin Crane of Black Country Chamber of Commerce shares his experience of having the vision to do business in the right way, staying relevant in the marketplace and evolving with the impact of covid-19.
Highest rated Black Country Business Podcast
---
Episode 11: Are you a real business owner or do you just own a job? Lewis Haydon and Andy Hemming share what ActionCOACH refers to as the Entrepreneur Ladder.
Most topical Black Country Business Podcast
---
Episode 10: Understanding GDPR and how getting it right can make you A LOT more money – with guest Una Brown.
Business Growth Events
Upcoming Events
'Do Less, Get More' Workshop 2022
Designed specifically for business owners who want to increase profits, maximise efficiency and elevate the performance of their business! An invitation to develop your ideas and knowledge on: Differentiating yourself from your competition and stop competing on price Getting your team to turn your customers into raving fans who refer you and keep coming back Attracting,…
View the full business events calendar
We've seen this process work for clients time and time again. Established in 2007, we have a proven track record of achieving great results for great people, all at various stages of their business journey.
Watch these videos to see the difference we made to client's businesses (and lives). Andy Evans, for instance, is a Black Country business owner who transformed his business by 300% turnover and profits through business coaching with ActionCOACH Black Country.
Watched the videos yet?
Check out more coaching reviews by clicking here to see more client success stories.
With a 6 month guarantee to increase your profits, there's nothing to lose but a lot to gain!
Listen to the videos to find out more…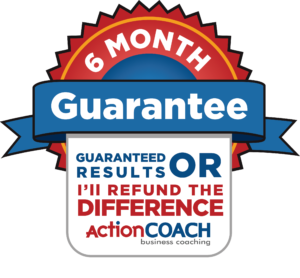 You have seen other's success journey... so what about yours?
Our client's results are evidence that you don't need to work yourself into the ground to be successful in business.
Click the 'book here' button to book a one-to-one coaching session and be part of something that will have a positive impact on your business and your life.