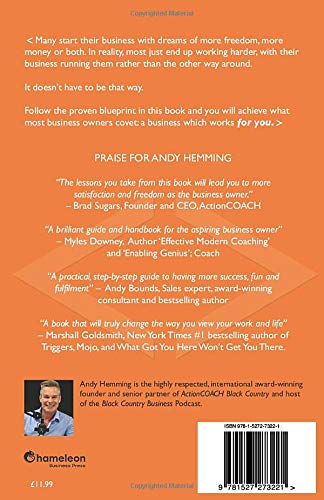 About this book:
Are you getting what you want from your business, or has it swallowed up all your time for not enough money?
If you're like many small business owners, you've just got busy trying to juggle your customers, grow your business, manage your cash flow, spend time with your family, all whilst wondering why your team doesn't care about your business as much as you do.
But there's another way. A way in which you can get what you want from your business.
This book will show you how to:
•Get you and your team thinking smarter about how to achieve the results you want
•Make the best use of your, and your team's time
•Get your team to care as much about your business as you do
•Get your business truly working for YOU
Testimonials from other authors:
"The lessons you take from this book will lead you to more satisfaction and freedom as the business owner." -Brad Sugars, Founder and CEO, ActionCOACH
"A brilliant guide and handbook for the aspiring business owner" -Myles Downey, Author 'Effective Modern Coaching' and 'Enabling Genius'; Coach
"A practical, step-by-step guide to having more success, fun and fulfilment" -Andy Bounds, Sales expert, award-winning consultant and bestselling author
"A book that will truly change the way you view your work and life" -Marshall Goldsmith, New York Times #1 bestselling author of Triggers, Mojo, and What Got You Here Won't Get You There.