If procrastination is one of the problems you face in your life and business join other Black Country business owners and leaders in their field and 'Eat that frog' by delving into the detail of Brian Tracey's Best Selling Book.
Understand how you could take the learnings from this book into your life and your business and get more of the important things done.
Our February 2021 BookCLUB event will give you the opportunity to:
Network with other local businesses

Gain new ideas to supprt your business growth

Challenge your own ideas on business

Learn something new
BookCLUB bring together a fresh take on networking alongside education and coaching to help to take you and your business forward through a selection of inspiring business books.
For this month's event we will be focussing on Brain Tracy's 'Eat That Frog!'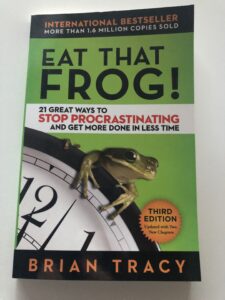 Book now and receive your copy of this months' book at no extra cost.
You can try BookCLUB for the first time for free. The usual cost to attend is £50 +VAT which includes your copy of the book. Contact Kerry for more information kerryhopkins@actioncoach.com