What is Business Coaching?
Grow Your Business with the 6 Steps Process
So what is business coaching? How can it help you grow your business and reach your goals?
Well let's keep this simple by showing the 6 Step Process that other business owners have used to achieve their business success… and ultimately a profitable business that continues to grow without them having to be there.
The 6 Steps Process is a proven and effective way to grow any business. Your coach—that is best suited to achieving your goals—will coach you along the 6 steps process that will ultimately allow you to create more sales, leverage, and profit from your business so that you can have the business provide for you in the way you want to live your life.
Watch the 6 Steps Video presented by senior partner Andy Hemming and learn more about the process.
Business Coaching Programmes
Business coaching programmes are designed to take you and your business to the next-level, and deliver considerable return on investment, both in terms of money and personal freedom.  Working with your coach, you will look at the goals and outcomes you want (both for your business and personally, design a step-by-step plan that implements the right mix of the hundreds of coaching strategies available, and then be coached and assisted every step of the way on your journey to getting you where you want to be.
Our business coaching programmes have been implemented in hundreds of businesses across the West Midlands, Black Country, Worcestershire, and surrounding areas.
To find out more, please see the coaching options below… or get in touch with a coach via the contact form.
Group Business Coaching
Join other like minded business owners as you build your business to new heights.
Join a group of passionate business owners that are all committed to their personal and business development.  In our group business coaching programme, you will be learn the foundations that have led to successful businesses achieving beyond what they ever thought possible.  You will be held accountable to your goals to ensure that you reach them. Each session, you will learn new skills to implement straight into your business.
IS BUSINESS COACHING RIGHT FOR YOU?… TRY GROUP COACHING FOR FREE
Your first session of group coaching is completely free. Click the link below to reserve your seat.
note: seats are strictly limited to 12 spaces per session
One-to-One Business Coaching
Are you ready to get more out of your business?
Our signature programmes and the most intense: Results-driven coaching that any business owner can put to use. This programme is suitable for high quality businesses already experiencing steady growth, but with the goal to grow more rapidly. You're probably working too many hours and your business would not survive without your constant attention.
This programme is designed to:
• Increase profits exponentially to help you get more out of your business
• Deliver a strategy for growth, giving you confidence in direction for your business
• Align your team towards what YOU want to get out of your business
• Build you a great business AND a great life. A business that supports you (not the other way round).
Business coaching allows you to get ahead. Whether your plan is to just increase sales and profits, get your time back, sell your business, or just have your business work for you without you there, business coaching can help you get where you want to be.
Watch this video to find out how Andy Evans
transformed his business by 300% turnover

and profits through business coaching with Andy Hemming.
Results Guarantee
Since 1993, ActionCOACH has served thousands of businesses and their owners grow around the world. Business categories range from marketing to sales, manufacturing to service, and small businesses to franchise and large companies.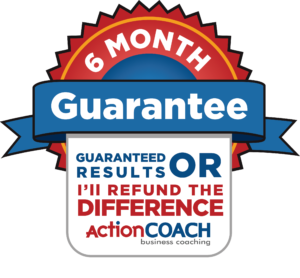 By showing owners how to get more time, better teams in their companies and more money on their bottom-line, ActionCOACH has grown to be the number one business coaching firm in the world, with hundreds of proven systems and strategies… guaranteed to get results (see ActionCOACH Guarantee).
With more than 1,000 offices in 59 countries, ActionCOACH delivers its proven business development systems to tens of thousands of business owners every week. Owners who turn to business coaching get the freedom and lifestyle they sought when they first went into business for themselves.
​Since its inception, ActionCOACH has coached more clients, won more awards, gained more recognition and produced more profits than any other coaching company of its kind in the world.
​Our simple and systemised approach to business has benefited business owners around the world with: more time; better teams within their companies; and most importantly, more money.
Is Business Coaching right for you and your business?
Frequently Asked Questions
What is business coaching?
+
A business coach will work in partnership with you to help you achieve both your personal and business goals. Once you've defined where you want to go, we help you get a plan in place to get you there. We'll teach you all the skills you need to achieve the goals and keep you focused and accountable to doing them. We'll make sure you get there as quickly and efficiently as possible.
Most importantly, it's about making you independent of us so you can confidently grow any business you are involved in.
Like a sports coach, we don't play the game for you – we help you play your game better.
There is also a 17 week money back Guarantee, so it certainly does not cost anything.
What can you tell me about my business that I don't already know?
+
Very simply, nothing! That's not the point though. Whilst you have all the knowledge you need about the specialisms of your business, we have the knowledge of how to build businesses.
We use a proven system to help you create a business which can grow, provide you with both a great living and the freedom to enjoy it, because every business is built on the same principles.
When we put our knowledge of building businesses together with your knowledge of your business, we can adapt our strategies to make sure that they work for you.
What results can I expect?
+
As you'll see from the statistics presented on this folder, it's very common for the business owners we work with to both grow their business from a sales and profit perspective and get more freedom to do what they want with their lives.
Whether it's to be able to sell your business for millions, or just be able to go on holiday for two weeks with your family without worrying about your business, we have worked with numerous people to help them achieve that.
They're your goals – we work with you to help you achieve them. If you take a look at our website, you'll see plenty of examples of the kind of results our clients achieve. https://blackcountry.actioncoach.co.uk
Most of all, the focus here is your goals and getting you to where you want to be. You will set targets at the start of your coaching, targets that will force you to think bigger of what you're truly capable of. Your coach will then keep you ACCOUNTABLE to reaching those goals. They will give it to you straight if you fall off track, they will give you all the resources your need, and they will make sure you get there.
Who are ActionCOACH Black Country?
+
We have been working with business owners in and around the Black Country and West Midlands since 2007. In that time, we have helped hundreds of business owners to achieve more profitable businesses and gain more freedom to enjoy their successes.
Our senior partner ranks in the top 5 coaches in the world and has won West Midlands Coach of the Year every year since 2014, Best Client Results 5 out of the last 6 years, and UK's Highest Client Satisfaction Ratings for 3 years in succession.
Our senior coach is an ex-client of the firm, who created a business which is still growing without him. He is a doctorate researcher in organisational psychology. He has experienced the system we use from both sides of the table!
ActionCOACH began in Australia in 1993. Since then, it has grown to 90 plus countries and there are around 2,000 ActionCOACH firms globally.
The ActionCOACH system for growing businesses has been used in tens of thousands of businesses. That's why we are so confident that if you apply it as we teach it to you, you will get results!
Our vision is "World Abundance Through Business Re-education". We believe that being in business should give you more life, hence our definition of a business being
"A commercial, profitable enterprise that can work without you".
Being caught up in the day-to-day of running your business, it becomes difficult to see the whole game for what it is. Imagine you are the star football player, the coach is there to coach from the sideline. The coach sees the whole pitch, how the players are playing, and what the wins look like.
How do I find the time when I'm really busy already?
+
When you work with us, it's not about us simply giving you more work to do. If you're like many of the businesses we work with, you'll probably find yourself doing a lot of low value activities in your business.
We'll help you do less of those, and more of the things that will grow your business, make it more profitable and give you the freedom you deserve.
As you'll see, our clients not only grow their business and personal income, they also work less hours as a result.
We have a wide range of programmes available to suit every business, from planning events through to group coaching and then our flagship one-to-one programmes. We have set up our business to help every business owner in the Black Country, as long as they want to be helped!
When we work with you however, we will identify quickly the areas in your business where we can help you make more money.
One of our initial focuses is to generate enough additional profit to pay for what you are investing in your coaching programme, so that you don't have to worry about the additional expense.
Will it work in my business?
+
That's down to you. We won't do the work for you, as coaching is a learning process for you. We know that our system works in any size or type of business. Our current client base ranges from £50,000 turnover to £50 million, and we work with all sectors from engineering to manufacturing and wholesalers to professional services.
Provided that you are open to trying new things and applying the system that we teach you, we know it will work for you.
We have clients that have been working with our coaches for over 10 years. Smart business people don't pay for something that doesn't work for them!
Are there any guarantees?
+
We are happy to guarantee our service. We understand that it's a big decision to embark on a coaching programme, and we believe that there shouldn't be any financial risk in doing so.
When you work with us, we become an overhead in your business. If, after 6 months, we haven't made at least enough additional profit to cover your investment in us, we will simply refund the difference, no questions asked, provided that you have done the work that we agreed you should do.
We have never had to pay out on this guarantee!
The most successful companies in the world all have leaders in the company that are coached. It keeps them on point and accountable to perform at a world class level. They did not get to where they are now without the desire to want more and do what it takes to get there. You can do the same too.
Once we have defined where it is you want to get to, we'll work with you and if necessary, your team to help you achieve your goals.
We teach our clients about "The Cylcle of Business": The owner looks after the team, the team look after the customers, the customers look after the business and the business looks after you, the owner.
Many of our clients are looking after the team, the customers and the business when we first start working with them.
If you're going to have a business which really performs, you'll need a great team to help you. That's why we include them in our programmes.
How do I find out more?
+
We offer a complimentary coaching session to anyone who wants to try it. Our intention is to help you understand enough about coaching and what it's like to be coached so that together, we can make an informed decision about whether it's right for us to help you and it will help you get to where you want to go.
We know that you will get value from the session whether we continue to work together or not, and that's why we offer these opportunities.
When we started the business, we made a pledge to add value to every business owner in the West Midlands. That's why we are giving away this pack to help you get great results in your business!
So... Is business coaching right for you?
Still wondering if business coaching is right for you? Why not come along and try out a free group coaching session. Follow the link here to reserve a seat.
Get In Touch
How Can We Help You?
Send a message
Contact info
Black Country - ActionCOACH 27 Greenbox,
Westonhall Road,
Stoke Prior,
Bromsgrove,
B60 4AL